For those of you that missed it, we "bundled" the iPhone version of Osmos with 5 other indie devs' games during the holidays to raise money for charity. The result: together we raised $35,134.78 for Child's Play! Needless to say we're really pleased with this.
During the sale, we put together some free shwag to thank and encourage people to spread the word: Namely, some free Osmos wallpapers and a ringtone. So, in case you missed them, here they are!

To install: from your iPhone/iPad, tap on any of the six links above, then tap and hold to save it to your image folder. Then select it in Settings -> Wallpapers. (Note that the lock and home screen selections above are just a suggestion. You can use either/both on whichever screens you like.)
And for those of you that like your ringtones a little… chiller. Here's a dreamy ringtone from Gas, an excerpt from the track "Discovery" which you may also recognize from the menu screen in Osmos.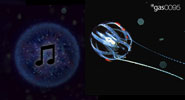 Gas Discovery ringtone
Touch to preview on your iPhone/iPad. To install: from your computer, right click (or ctrl+click) to download the file; then in iTunes, drag the file into the Library, select your plugged iPhone, and sync using the Ringtones tab.
Enjoy!